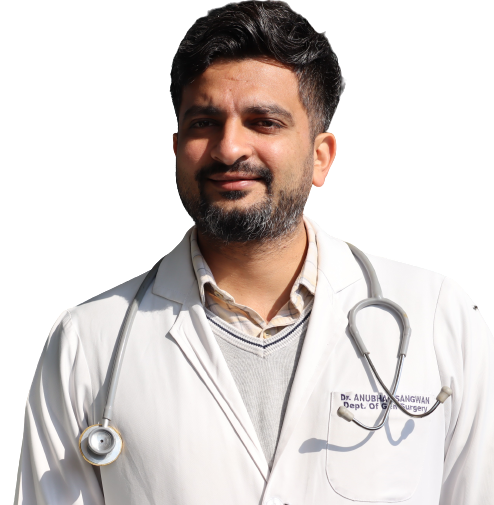 Laser and laparoscopic surgeon (M.B.B.S, MS FIAGES)
About Dr. Anubhav sangwan
Meet Dr. Anubhav Sangwan, who is a proctologist, laparoscopic surgeon and laser proctologist, and vascular surgeon.
He has a work experience in laser and laparoscopic surgeries of almost 8 years..
Currently, he is practicing in Gurgaon, Haryana at his clinic, named Hope Surgical, a maternity and infertility clinic, located at South City 1 Gurugram, Haryana.
As a leading laser proctologist in Haryana, Dr. Anubhav Sangwan successfully handled diseases like fissures, Piles fistula, and diseases of the anus and rectum area
Dr. Anubhav has treated a number of patients suffering from piles, fissure, anal fistula, pilonidal sinus, constipation, hernia, gallstones, appendicitis, etc. In his 8 years of experience, his performance as a laparoscopic surgeon
1. MBBS, MS FIAGES from VNMC & Safdarjung Hospital,New Delhi.
2. Senior residency in safdarjung hospital
3. Asst professor in VIMS Gajraula.
4. Consultant & visiting surgeon in
– fortis hospital,Gurugaon.
– Narayana hospital,Gurugram.
– Appolo cradle,Gurugram
– Pratiksha Hospital,Gurugram.
5. Hair Transplant surgery in HFHG Gurugram.
1. India association of Hair Restoration & Research.
2. IAGES
3. Surgicone India
1. Hair Transplant Summit 2018 VNMC & Safdarjung New Delhi
2. FIAGES Niyati,Mathura
3. Dermatology workshop
1. Trichology
2. Hair transplant Surgery
3. Beard & Eyebrow Transplant Surgery
4. Cosmetic procedures and Surgeries
Services Offered By Dr Anubhav sangwan
He offers the latest and cutting-edge Laser Surgery & Proctology Treatments .
What paitents are saying about

Dr. Anubhav sangwan
Care begins with a safe

Place
We understand the significance of translucency and relationship structure in the communities we serve and drink any media inquiries about our services and events. Please feel free to contact Hope Clinic on working hours.